VIDEO BREAD (112min DVD)
Video Bread is a bread baking class that you take at home in your spare time at your own pace. Bread baking is something you really need to be shown how to do. It lends itself well to DVD. VIDEO BREAD will show you how to bake bread at home. Step by step. VIDEO BREAD has eight segments and runs one hour and fifty two minutes in length. All recipes are original and given on screen.
In the first and longest segment, the viewer learns how to bake a "basic" loaf of bread. A formula approach takes the magic and guess work out of the bread baking process. The viewer receives science and background information on yeast and flour and a good understanding of their function in bread baking.
As an example, yeast is an organism grown commercially in large vats and then dehydrated. The water is removed. The yeast goes into a dormant state like a seed. We need to rehydrate the yeast, add the water back, to bring it back to life. We "soak" the yeast, let it sit in the water at 110 degrees for seven minutes. Temperature is important. Yeast will come alive between 70 and 140 degrees, but at 140 degrees we will start to kill the yeast - too hot. At 70 degrees, the yeast will start to come alive, but too slowly. We want to time the release of the gas into the bread baking process. It is our window of opportunity.
Once the viewer knows how to bake a "basic" loaf of bread, we go on to bake a variety of yeast products. In the second segment, we use different pans to shape the dough into buns, rolls, free form loaves and French and Italian bread. The crust is treated by painting it with a variety of mixtures, spraying it with water and putting seeds on the bread. The remaining segments include baking - stone ground whole wheat bread, caraway rye bread, cinnamon raisin rolls, pizzas and a banana cream and an apple pie. Pies have nothing to do with yeast, but a pie crust contains only four ingredients, is simple to make and some people have just never been shown how.
The final segment is a summary/narrative on cost, source and nutrition. The viewer learns how to locate and purchase from food brokers, wholesalers and distributors. Nutrition is discussed in detail. Nutrition is the biggest plus in baking your own bread. You can add wheat germ, start working with multi grains, use honey exclusively instead of refined sugar and limit the salt content. By using water and vegetable oil, there is no cholesterol in the bread. Bread flour is unbleached, high protein, natural and very nutritious.
(DDS - Cataloging Information/Call Number DVD/VC 641.815 V65r)
Order by credit card using PayPal:
Public Performance Rights $5.00/DVD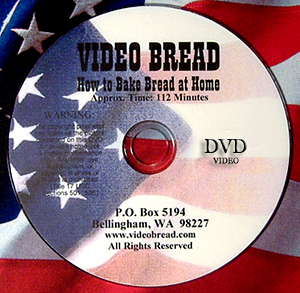 © Copyright 1990-2017 Video Bread
videobread@gmail.com
Better bread baking starts with Video Bread. The recipe for success!