VIDEO MUFFINS (46min DVD)
VIDEO MUFFINS runs 46 minutes in length and is great family fun. Blueberry muffins, banana nut muffins, bran muffins and chocolate muffins are made. The DVD closes with a coffee cake. All recipes in my videos are original and given on screen.
Muffins are simple, fast and easy to make at home. The viewer can make muffins once a week and have them on hand for a quick breakfast. I make a whole batch and freeze them, then pull them out one at time in the morning and microwave them and have them with my coffee.
I save a lot of money. Buy making your own muffins you can use ingredients that commercial bakeries find too expensive to use. All the blueberries you want. Buttermilk really makes a difference. I explain when and why to use baking powder vs. baking soda. Once you work through Video Muffins you will be able to go home and make any muffin you see in the store.
(DDS - Cataloging Information/Call Number DVD/VC 641.815 V65r)
Order by credit card using PayPal:
VIDEO MUFFINS (46min DVD) $34.95
Public Performance Rights $5.00/DVD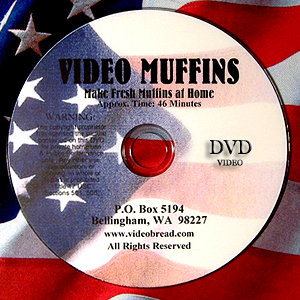 © Copyright 1990-2017 Video Bread
videobread@gmail.com
Better bread baking starts with Video Bread. The recipe for success!