VIDEO SOURDOUGH (124 min DVD)
Learn the secrets for successfully making naturally leavened bread. Get your loaves to rise well consistently. Learn to cut rising time down considerably (up to in half in cold winter months). Never buy commercial yeast again!
I have been making sourdough for years and have thoroughly documented the process in Video Sourdough. It took a lot of trial and error to perfect the techniques that now produce consistently outstanding results with just the right flavor, taste and texture. I keep my starter pure. Water, flour and an all natural wild yeast homemade starter. Video Sourdough contains four menu driven segments.
Segment One makes a Novice Loaf. A good place to get started. Great for the beginner. The 'hows and whys' are science based and explained in great detail. No more wondering if your loaf will turn out. No commercial yeast is used. Recipes that call for any commercial yeast are not truly sourdough, by my definition. I am a purist. No shortcutting with commercial yeast.
Segment Two makes two artisan loaves and gets right into the 'nuts and bolts' of making sourdough in your home kitchen. No special oven is required.
Segment Three makes two caraway rye loaves with dill, garlic and molasses. Two pumpernickel rye loaves are also made. How to get the desired level of sour taste in a loaf is explained.
Segment Four makes two sourdough cranberry cinnamon loaves and shows how to cut way down on rising time in the winter. Baking the loaves in a normal home oven and getting an artisan crust is demonstrated.
There is always more to learn. My sourdough experimentation over the past several years is documented and pays dividends in Video Sourdough. I have made all the mistakes so that you won't have to. You won't have to start over when your starter dies. There are many quirks and idiosyncrasies involved in making sourdough. But it is not magic. Learn right from the start!
Sourdough bread baking is all the rage. It seems that everyone is making sourdough. I've heard many claims of mastery. Mastery of the granddaddy of all breads. Not so fast. Most recently self-proclaimed sourdough masters are now buying sourdough. It's the bomb of all breads! It is just not that simple to master without proper instruction. Video Sourdough will show you how to actually make beautiful sourdough loaves consistently. Knowledge leaves nothing to chance. Make sourdough you will be proud of every time. Start baking sourdough today. May your bread rise to the occasion!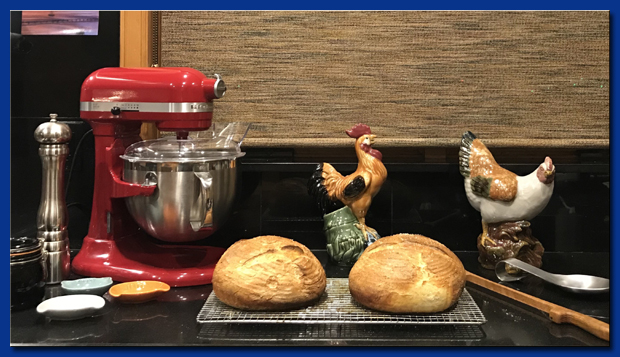 (DDS - Cataloging Information/Call Number DVD/VC 641.815 V65r)
Order by credit card using PayPal:
Public Performance Rights $5.00/DVD
© Copyright 1990-2021 Video Bread
videobread@gmail.com
Better bread baking starts with Video Bread. The recipe for success!