VIDEO BREAD ARTISAN SERIES (Four Two Hour DVDs) Plus VIDEO PIZZA PRO
Eight Hour take at Home Baking Class plus 94 min Pizza DVD
The Video Bread Artisan Series is an eight-hour take at home baking class on four two-hour DVDs. Beginner through artisan instruction in the privacy of your own home, at your own pace and in your spare time.
Disc 1 - Video Bread 101 (120 min DVD): Introduction to Bread Baking. Learn the fundamentals of working with yeast and about various flours. Video Bread 101 makes white, stone ground whole wheat and caraway rye breads. Buns, rolls, free form loaves and French and Italian bread shapes. Everything is done by hand.
Disc 2 - Video Bread Maker (114 min DVD). Automates the baking process with bread makers and mixing machines. Let machines do the work. No more clean up or mess. Learn to make a variety of breads using machines to make the dough. Make honey buns, pizza and skip a rising to speed the baking process. Bread makers are used for mixing and kneading only. All baking is done in the oven.
Disc 3 - Video Breakfast Baking (124 min DVD). Learn to make a variety of breakfast treats by hand, using bread makers and mixing machines. Make cranberry bread, sweet rolls, sticky/honey buns. Plus blueberry, banana nut, bran, chocolate and blackberry muffins. Also, a good old- fashioned coffee cake with slivered almonds.
Disc 4 - Video Bread Artisan (117 min DVD). Marbled rye, medieval rye, chocolate bread, sourdough bread, kids colored loaves are made and more. Learn to make artisan crust in a home oven. Advanced baking concepts are demonstrated.
Disc 5 - Video Pizza Pro - Be a Pizza Pro (94 min DVD). Learn to make better pizza at home than you can buy. Fast pizza by hand, Chicago deep dish, stromboli, chicken mole, BBQ chicken, calzones. Think Pizza!
There is always more to learn.
(DDS - Cataloging Information/Call Number DVD/VC 641.815 V65r)
Order by credit card using PayPal:
(Four two Hour DVDs plus Video Pizza Pro w/PPR delivered ) $150.00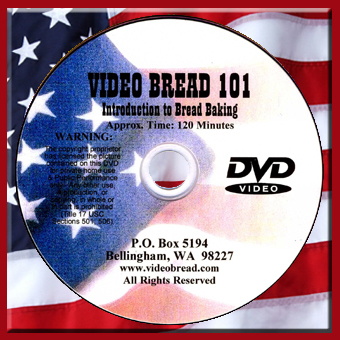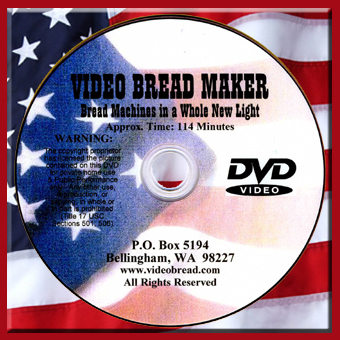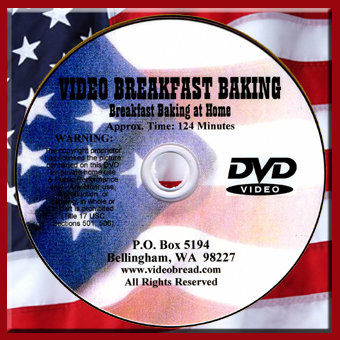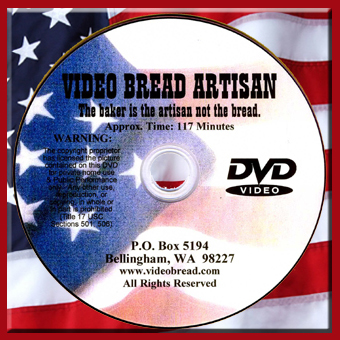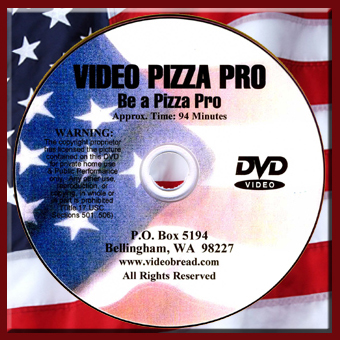 © Copyright 1990-2021 Video Bread
videobread@gmail.com
Better bread baking starts with Video Bread. The recipe for success!