31st Anniversary - All New Footage
Hi! I'm Steve and I have been teaching people how to make & bake bread at home since 1990. I filmed my original title, VIDEO BREAD, on an S-VHS camcorder in full screen format when I was in my late thirties. It was in thousands of public libraries in the US and Canada. I now have a whole New DVD Series. Filmed in my late sixties on multiple HD camcorders in a widescreen format. All new DVDs have been professionally mastered and are menu driven. I made my new series for the thirtieth anniversary of VIDEO BREAD. It is my legacy to the bread baking community. The original VIDEO BREAD has been retired and replaced by VIDEO BREAD 101 - Introduction to Bread Baking. My newest title is VIDEO SOURDOUGH. It is two hours long and shows all my sourdough secrets. Sourdough is the granddaddy of all breads. A Brief Recent History of Sourdough
Used library copies of my original titles are still available on Amazon and EBay, but I do not sell my vintage titles to libraries. No vintage titles are listed/offered on this web site. All 8 DVDs listed are new titles (new HD footage) and packaged in standard 14 mm black poly cases with colored printed inserts. I've kept the signature look and titling consistent to be recognizable to my following.
I've had my own approach to home bread baking for the past thirty years. It is a scientific approach. To me bread baking is like an industrial engineering project. I want and get consistent results. My titles are building blocks. Work through them and you will become an artisan bread baker over time. It is like getting to Carnegie Hall - practice, practice, practice. There is no easier softer way. You can't just start out making an artisan loaf, although you'd think so by reading some of the sites on the Internet. Bread baking is a craft. You will never know it all. There is always more to learn. Learning right from the start is very important. Understanding the how and why of the bread baking process is key to learning how to make bread at home.
It is essential that you have an understanding of the basics of bread baking before you can become an artisan bread baker. That is where my title VIDEO BREAD NOVICE comes in. You learn how to make a basic loaf of white bread. The science of what is going on and why in the bread baking process is stressed. You are instructed to control the temperature throughout the baking process by actually using a candy thermometer. This is for the novice, but it is part of the learning process. You are instructed to use 50% more yeast than other recipes call for to insure a great loaf on your first attempt. When half the flour has been added, an electric beater is used to thoroughly mix the yeast and cut down on kneading time. The actual kneading process is shown with close-ups. It is hard to know if you are kneading correctly from diagrams in a cook book. Time lapse photos of the loaves rising and throughout the baking process are given to explain in detail what is going on. You get a good understanding of flours and the function of gluten in the baking process. In the end you are shown how to tell if your loaf is completely cooked.
The VIDEO BREAD series is not just about bread. I have been teaching people how to make incredible pizza for years. See my pizza title, VIDEO PIZZA PRO. For some reason there is a mind set out there that you can't make good pizza at home. That's just not true. Learn to make a better pizza that you can buy for next to nothing and just the way you like it. Learn to make muffins, VIDEO MUFFINS MAGIC, and other breakfast items, VIDEO BREAKFAST BAKING. I'm really big on bread machines/makers and have a title called VIDEO BREAD MAKER that is a must see. Check out my VIDEO BREAD ARTISAN and remember the baker is the artisan and not the bread.
VIDEO SOURDOUGH - My newest title, is just what people are looking for today. Real help with sourdough. Solutions and methods that produce great results. Not directions, opinions and suggestions that just don't quite work out. It's not you. Sourdough is difficult to master. There is a lot of misinformation out there however well intentioned. Many experts don't even know they don't know. I'm offering you help with your sourdough. Video Sourdough is a solution. You can make better sourdough than you can buy. Your home oven is sufficient. No commercial oven is required. You don't need a stone oven. You don't need a hot oven. I bake at 450 degrees and get an artisan crust on my sourdough in my home oven.
You can also click on the Baking Photos link above to see some of the baked goods made in my titles. Have more questions? Write Me (videobread@gmail.com). I have been answering bread bakers' questions for years and enjoy helping people to improve their baking skills. I promote bread baking and would like to see more people start baking again.
The DVDs are practical hands on instruction and will show you basic as well as advanced baking concepts. All recipes are original and given on screen. Bread baking is a craft. Learn right from the start. Bread baking - beginner through artisan. How to make bread at home. Learn what else you can do with your bread machine, how to make pizza, muffins, sweet rolls, sourdough bread, pretzels, French bread, rolls and much, much more.
To purchase DVDs click on Order Info for pricing, etc. You can buy online or send a check or money order in US funds.
Public libraries contact me for library pricing. Write Me (steve@videobread.com).
May your bread rise to the occasion!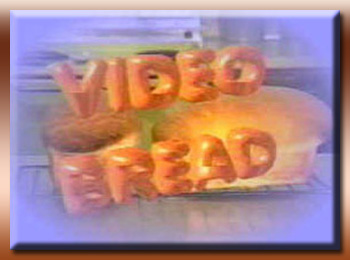 © Copyright 1990-2021 Video Bread
videobread@gmail.com
Better bread baking starts with Video Bread. The recipe for success!